"Brecon Jazz" is a music festival held annually in Brecon, Wales. Staged from 6-20th August, it has played host to a range of local and international jazz musicians.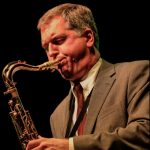 Created in 1984 by local enthusiasts – musicians, promoters and fans – the early festival featured live jazz music on the streets and in the pubs and cafes of Brecon. Since 2016, and now in its continuous 40th year – the festival has been directed and presented by a Jazz stakeholders coordination group, founded by members of the local Brecon Jazz Club.
Assets and historic rights to the festival are held by Brecon Jazz (Charity) Ltd and Friends of Brecon Jazz, on behalf of the town of Brecon.